By: Betti Alisjahbana
Time flies so fast. We have been through the Covid-19 pandemic for almost 5 months. For the most part, most of us work from home. 2 months ago we published the article : "5 Productive Tips Working from Home". For those who haven't seen it, we invite you to take a look and hopefully it will be useful to make you work productively from home.
This time we want to complete it with 5 Tips for Leading Remotely Successfully. With covid-19 or not, the ability to lead remotely is very important, because even under normal circumstances technology allows us to work from anywhere. And with traffic congestion increasing in many cities, working from home has the potential to give you and your Team more time. Besides being able to become a team member with the required expertise outside the city or abroad, the ability to lead a team remotely allows us to work with the best people wherever they are.
We know MBWA or Management by Wandering Around, which was popularized by Tom Peters in the book In Search of Excellence. MBWA makes leaders know what is happening in the field, can facilitate increased employee motivation, build a sense of purpose, and increase productivity. Jokowi implements this MBWA by means of blusukan.
What if we lead from a distance, when we can't see our team at work, can no longer pass each other in the corridor and exchange ideas? Everything needs to be specially planned. I used the following 5 tips when I got an international assignment and lived in Singapore. With team members spread across countries in the ASEAN Region and South Asia, the tips below help us to lead effectively.
Here are 5 tips, leading from a distance.
1. Clarity of Purpose
To produce excellent output from a team working from scattered places, requires you to ensure the entire team understands and lives up to the organization's goals, team goals and the goals of each team member. And how are the three of them related? Understanding this allows the team to move in the same direction even though they are far apart.
2. Process Clarity
In addition to the clarity of the final goal, team members also need to know the process to get there. As an illustration, if we want to lose 5 kg of weight, then the process to get there includes determining how many calories we need every day and how many calories we have to burn through exercise every day and so on. Agree with the team the process towards the predetermined goals.
3. Keep doing Coaching regularly
Having a team working in a different place does not remove the obligation to develop our team's capabilities and support their success through the coaching process. When we work together in one place, we can see our team working or passing each other in the corridor, which triggers the coaching process. When working remotely, the coaching process needs to be specifically planned.
The following are 8 coaching steps that can be applied: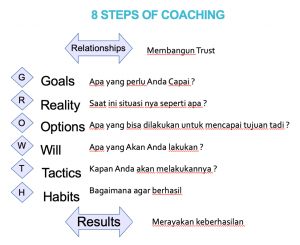 In coaching, make sure the questions asked are open-ended, which encourage the team to think deeply. Make sure we give less instructions and listen more and facilitate the emergence of solutions that come from the team. This will increase engagement and a sense of belonging.
4. Build good communication between individuals and together as a team
In order for mutual trust and teamwork to work well, communication both one-on-one and together needs to be built. Schedule one-on-one and team discussions at least once a week. In the vid-con team, discuss the progress of achieving the goals, as well as the progress of the process towards these goals. In addition to business matters, take time to discuss matters relating to the health and well-being of members. Open the widest possible access to your team to be able to communicate and get the support they need.
5. Use the right tools
Currently, there are many tools available that can help remote collaboration and collaboration. Learn these tools and use the most appropriate tools for their purposes.
Synchronous communication: A conversational tool that allows you to have constant, real-time contact with team members.
Digital workspace: A shared workspace, such as Trello, so you can see the progress of projects and assignments. You can see who did what and how far the process has gone.
Video meeting space: Integrated video like Zoom that enables digital meetings.
Open document storage: Cloud-based shared document storage, where each team member can access the files they need.
A common calendar: A team calendar that shows project deadlines, meeting schedules, and team member leave schedules, which all team members can see.
The ability to lead a team remotely needs to be honed, and will be useful not only during covid-19 but also in the future. Many millennials want flexibility in their work. In addition, the best manpower we need may be in a different city/country. Therefore, if we have good skills in leading a team remotely, we will become more flexible and successful.
Happy practicing.
Salam hangat penuh semangat